Setting up a custom subdomain
This document will guide you through the process of setting up a customer subdomain.
We'll be working to set up CNAME (Canonical Name) records to your DNS (Domain Name System) settings. CNAME records are used to create an alias for a domain or subdomain and point it to another domain name. You will need to add at least one and most likely two CNAME records: one to point your subdomain URL (e.g., organic.<yourbrand>.com) to the Organic URL (e.g., <yourbrand>.organicly.io), and (likely) another to verify domain ownership so that Organic can issue a TLS (Transport Layer Security) certificate. We'll walk you through the steps.
Step 1: Generate your CNAME record and Value within Organic
1. From the Affiliate Dashboard go to the cog in the top navigation to get to the Affiliate Settings
2. Navigate to General Setting > Domain Management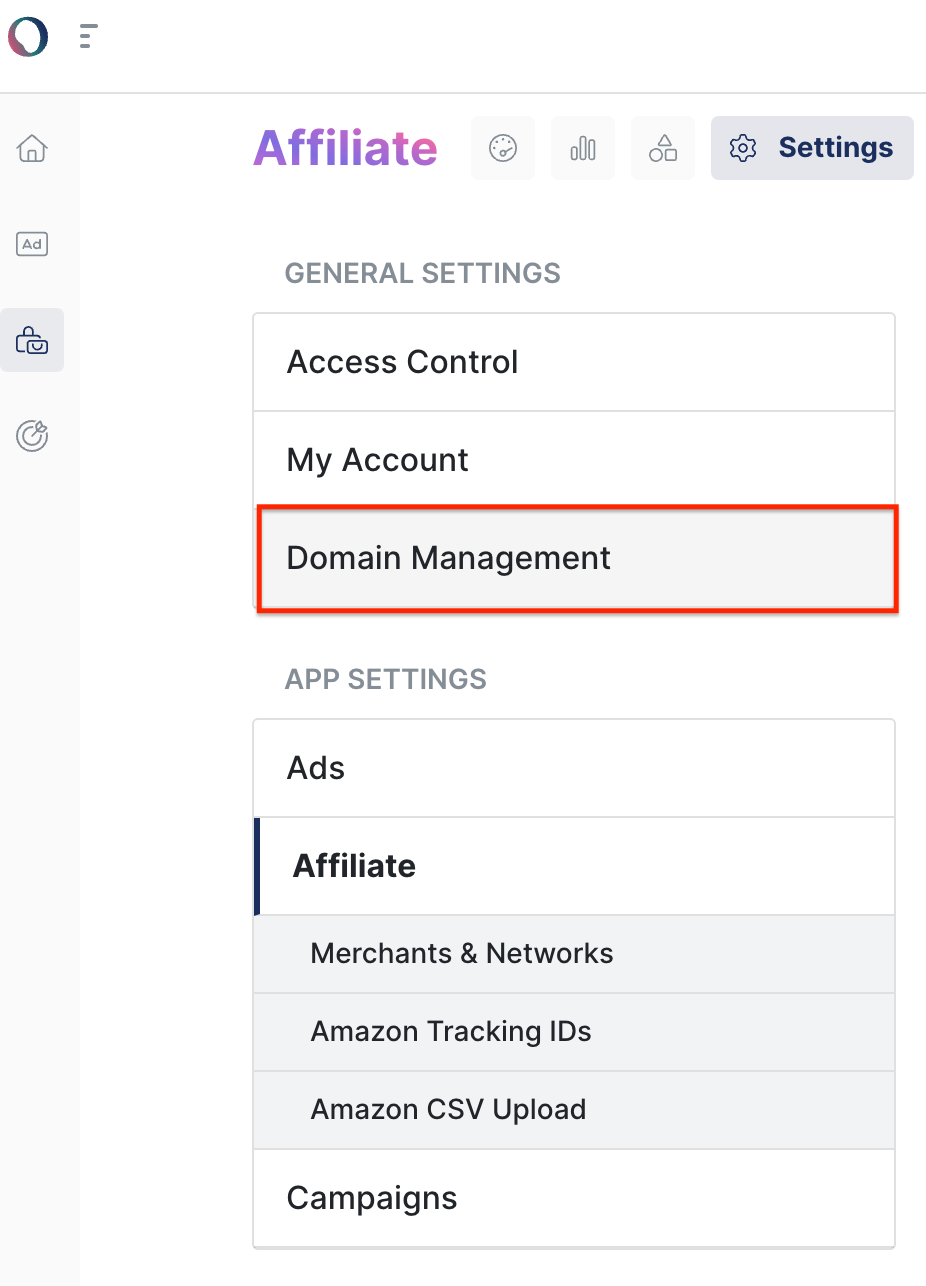 3. Click the "Set up Custom Public Domain"

You'll be brought to a screen that will provide you with your new CNAME record Name and Value that you'll need in the below steps (Steps 3.2 and 3.3)

4. Copy and paste the CNAME record and Values into your domain registrar or hosting provider's website. (For help adding a CNAME record to your DNS table, which occurs outside of the Organic platform, see "How to configure your CNAME records," below.)
Step 2: Organic will issue a TLS certificate. You will likely need to add another CNAME record in the process.
1. Organic will request a TLS certificate for you within two business days of you requesting a subdomain. It is likely that we will need to confirm domain ownership for <your brand>. If so, we will send you an email, and you will see instructions in the platform to enter another CNAME record and value, as in the image below. Ideally, you should enter this record within 48 hours to avoid the TLS request expiring. If the request does expire, Organic will re-request a TLS certificate and re-email you.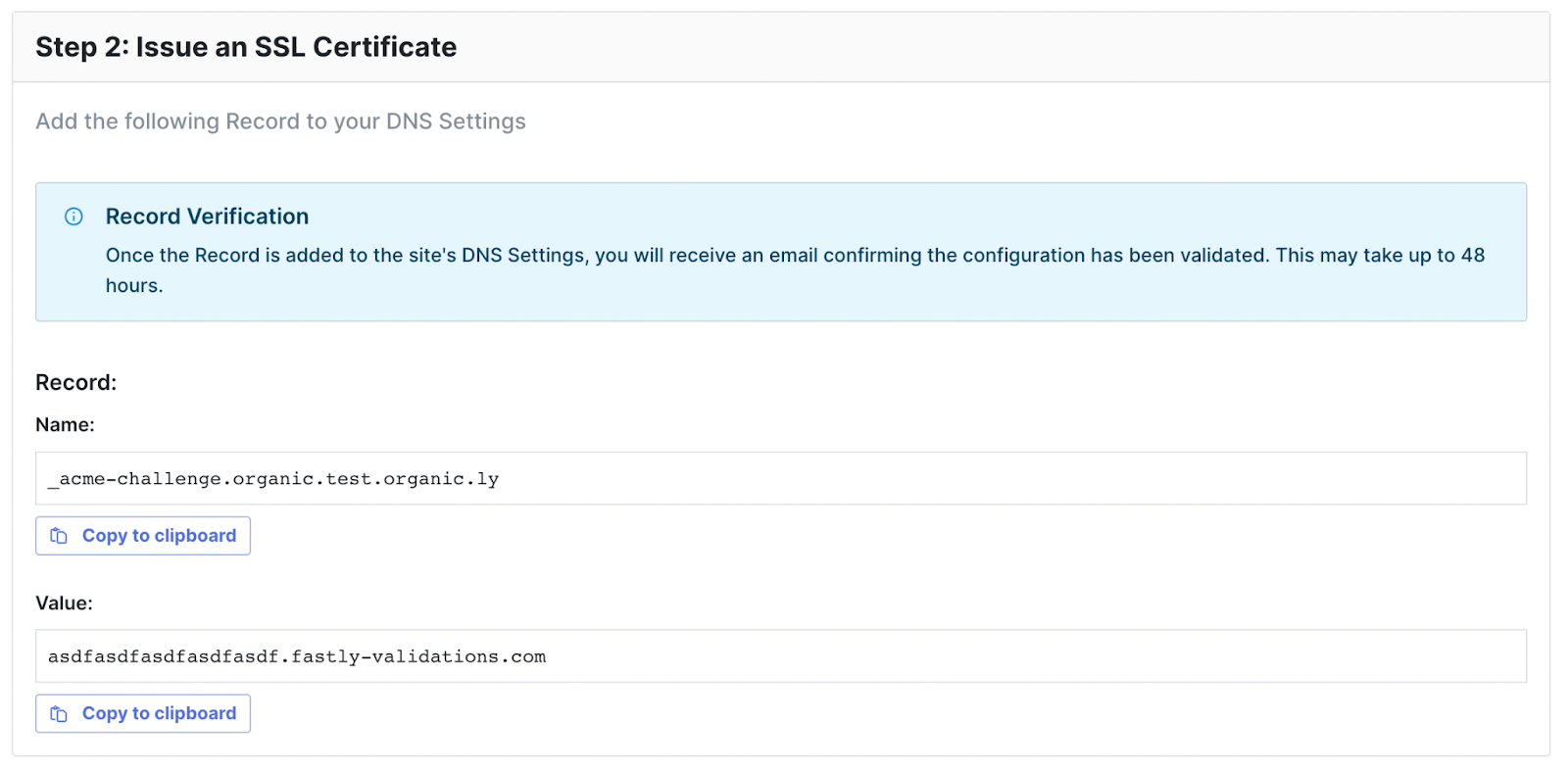 How to configure your CNAME records within your Domain registrar/hosting provider's website.
Step 1 Accessing your DNS Settings
Log in to your domain registrar or hosting provider's website.
Navigate to the DNS management section. This may be labeled as "DNS settings," "Domain management," "DNS management," or similar.
Step 2: Locating the CNAME Record Option
Look for an option or tab labeled "DNS records," "Manage DNS," or something similar.
Locate the section where you can add or edit DNS records. This section may be called "Add New Record," "Add DNS Record," or similar.
Step 3: Creating the CNAME Record
Select "CNAME" as the record type. In some DNS management interfaces, you may need to choose "Alias" or "Canonical Name" instead.
In the "Name" or "Host" field, enter the CNAME record from STEP 1
In the "Points to" or "Value" field, enter the Value from STEP 1.
Set the "TTL" (Time to Live) value. This determines how long the DNS information is cached by other servers. The default value is usually fine, but you can adjust it if needed.
Save the record. This may involve clicking a "Save," "Add," or "Submit" button, depending on your DNS management interface.
Congratulations! You have successfully configured your Organic subdomain. Organic links and widgets will now be based on the organic.<yourbrand> subdomain.