Organic Content enables users to automatically feed posts to their third-party syndication partners. There are a few ways in which this happens:
Via generic RSS

Via feeds for specific syndication platforms

Via API
Using Syndication Controls
Syndication settings can be set at the site level, and at a post level. Settings made at the post level override default settings at the site level.
Setting site level defaults
Site level defaults inform which syndication controls will be marked Publish on all newly created posts. Defaults help prevent user error by automating feeding to syndication partners that should always receive new posts. To change site level settings, contact an administrator or Organic Customer Support.

Including/excluding content in syndication
Navigate to Syndication Controls within the post settings of the edit post page. Toggle syndication fields to Publish to feed or Don't Publish to exclude.
Apple News
Apple News settings are configured separately. To access settings, click the Apple News logo at the top of the screen in the edit post page. To hide an article from Apple News readers, click Hidden Article. Other metadata, such as sponsored, can be added in this section.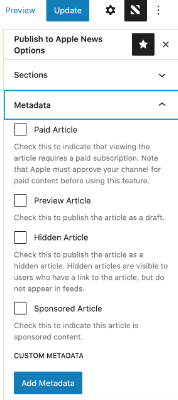 Removing posts from syndication
To learn more about removing posts from syndication that were syndicated by accident, see Unpublishing Accidentally Published Posts.