At least one author is added to every post; multiple authors may be added. Organic Content supports two methods for adding authors to posts. Only one method may be enabled at a time. If your organization wishes to change the method by which you add authors, contact Customer Support for assistance.
Standard author
One or more authors may be added via the standard author field, which is accessible on the edit post screen.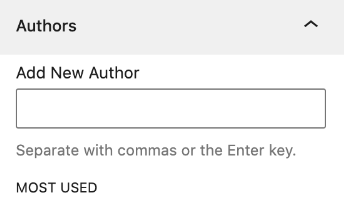 Custom byline
One or more authors can be added via the custom byline fields. By default, the label for these authors is By; a custom label can be set instead (e.g. Photographer, Fact checker, Stylist, etc.). Labels exist at a post level, therefore it is possible for one author to have a label on one post that is different from a label on a different post.